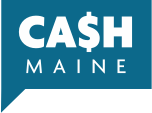 CA$H Maine
A collaboration of 11 statewide coalitions offers free tax preparation to qualified filers during the tax season and connects residents to financial education resources including home buying workshops, Family Development Accounts (FDAs), and credit counseling to help build a secure financial future. Volunteer greeters and preparers are needed! To volunteer for CA$H Maine in your community visit your local United Maine website or go to CashMaine.org.
Food Pantry Project
To help stock food pantry shelves, United Ways coordinate the volunteer-led Pantry Project. Shelving and boxes are supplied to organizations, schools or workplaces along with wish lists of desired food and lists of area food pantries. Food is collected and then redistributed to pantries.

Keep ME Warm
This fund provides emergency heating assistance through a statewide partnership of Maine's United Ways and Community Action Agencies with the goal of helping Maine people stay safe, warm and secure during the winter months. Each year, a portion of the public and private donations raised are distributed to Maine's nine United Ways.
The need for heating assistance in Maine has increased significantly over the last few years, driven by the cost of heating oil, decreased federal funding and changes to federal guidelines that have made many Mainers ineligible for heating assistance benefits like LIHEAP (Low Income Home Energy Assistance Program). Residents are faced with choosing between heating their home and basic needs like adequate food and required medicines.
If you would like to make a donation to support those in need you can either contact your local United Way or donate right online.

SingleCare
SingleCare is working with United Way to help people nationwide get their much-needed prescription medications they otherwise wouldn't be able to afford.
Most folks that use the card see an average savings of 40% per prescription. You can use the discount card even if you have insurance. You simply give your pharmacist both your insurance card and your SingleCare card and they determine the best price.
Learn more and get your FREE card at SingleCare: The Best Prescription Prices, Discounts & Coupons